June
22
, 2022
Hybrid Working – The Modern Working Model of The Future
4
min read
"Work from home" was no longer a new term when the COVID-19 pandemic occurred in 2020. From the end of 2021, when the situation gradually becomes a "new normal, " the "Hybrid working" model has been mentioned more frequently as a global trend.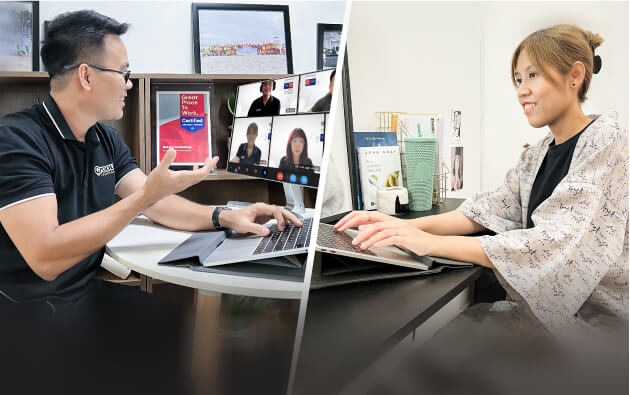 The global working model has been changing gradually
The hybrid model is a combination of working remotely and working at the office when needed. In adapting to the "new normal," this working model has shown effectiveness, bringing flexibility to employees and businesses.
According to a survey by Deloitte, 65% of workers believe that their productivity has increased since working remotely, and 77% of workers want flexibility in the way they work.
A study from CBRE showed that 87% of large companies with more than 10,000 employees said they would adopt a hybrid working model in the future.
Hybrid Working and its benefits for businesses
The first benefit to consider when applying the Hybrid model is the reduction in operating costs for businesses. Due to the decrease in the number of employees coming to the office, companies can cut down on some costs such as renting, stationery, electricity, water bills, etc.
In the period of adapting to the "new normal," the Hybrid model has helped businesses gradually return to operation while ensuring the safety of employees. The hybrid model has played an important role in reducing the risk of infection in a closed environment and protecting workers' health.
A 2021 survey by Wakefield indicates that 47% of employees would consider new job opportunities if their company did not adopt Hybrid Working. Hybrid Working also helps businesses expand their network to access talent. With the flexibility of this model, companies can recruit people in any location, even in another country, as long as they find suitable candidates.
Hybrid Working and challenges
Hybrid Working has proved its benefits with flexibility, safety, and increased productivity when employees do not need to go to work every day. However, the transformation of the working model also poses many challenges for businesses and employees to adapt to it.
Training new employees and helping them integrate into the working environment is one of the difficulties for recruitment when applying the Hybrid model. At Groove Technology, the onboarding program is transformed more effectively through online processes and instructional videos for employees to effectively familiarize themselves with the company's work processes and regulations. New members are also encouraged to visit the office to participate in company orientation sessions, if possible.
"When transitioning to a Hybrid model, continuous listening and interaction with employees play a critical role in maintaining the company culture," shared by Ms. Nguyen Phuong Mai, General Director of Groove Technology.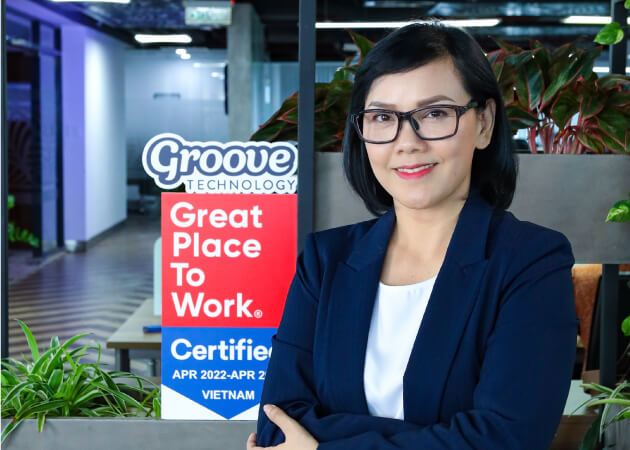 Due to the lack of regular face-to-face communication and interaction, building company culture and employee engagement is a complex problem that Hybrid poses for many organizations. Realizing that, Groove Technology has focused on building a transparent and safe environment for employees to openly share their questions or suggestions, thereby promoting the spirit of employee ownership.
At the same time, for a company with a young team, organizing many online events and games on special occasions such as holidays and Tet is also an effective solution to help maintain company culture. To do this, the company always fully supports technology equipment to help people easily connect and communicate.
Although Groove also encountered some difficulties when adapting to the Hybrid model, it was due to the hard work of the Management team and constructive feedback from the employees that the hybrid model has become stable and effective. This effort resulted in the event that Groove Technology achieved certification from Great Place to Work (a global organization dedicated to building, developing, and accrediting effective, highly-reliable work environments).
Mr. Matt Long, CEO of Groove Technology, said: "In today's era of powerful technology, transforming workflows to the cloud computing will ensure work results and connectivity. anywhere with customers."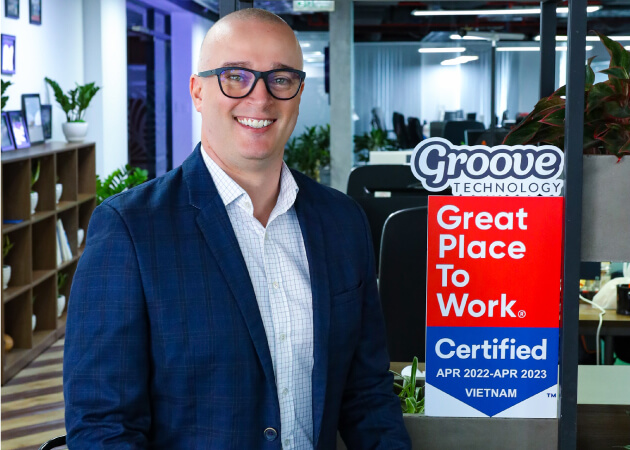 When changing to a hybrid model, businesses need a new workflow to ensure no disruption affecting their customers. Unlike many companies, Groove Technology has already established a standard for working remotely with foreign customers for many years.
Therefore, despite transforming the internal working model, Groove still ensures the quality of service for customers with tools for teamwork and combining different departments.
The global working model is still in the process of shifting day by day, hour by hour. In the future, will the hybrid working model be applied more popularly and gradually become a new lifestyle?